Possible Candidates to Treat Coronavirus
By: Niteen A. Vaidya, Ph.D., CEO, ChiroSolve, Inc
Coronavirus is developing as worldwide pandemic and quickly getting out of hands in terms of possible vaccine or effective drug to cure it. Today, I would like to discuss a popular anti-malarial drug molecule "Chloroquine" and its 2 metabolites "2-hydroxychloroquine" and "4-amino chloroquine". Note that Chloroquine gets converted to 2-hydroxychloroquine and 4-amino chloroquine (another metabolite) inside the body. Chloroquine, an antimalarial blood schizonticide was once the drug of choice in the fight against Plasmodium falciparum. But its use is now severely limited due to widespread resistance.
2-Hydroxychloroquine, a less toxic derivative of chloroquine, is also an antimalarial blood schizonticides with similar clinical indications such as Lupus or Rheumatoid Arthritis and side-effects. It is being considered effective in inhibiting SARS-CoV-2 infection in vitro [2] Both these drugs Chloroquine & Hydroxychloroquine have one asymmetric center and two enantiomers each. However, individual isomer (R) and (S) have not been studied well in terms of their biological activities.
Due to the emergence and spread of Chloroquine-resistant strains, other novel drug candidates based on the structure of Chloroquine are still being studied. Specifically, two of the 4-aminoquinoline analogs1: monoquinoline (MAQ) and bisquinoline (BAQ), have shown to enhance activity against chloroquine-resistant parasites. Due to its similar mode of action to that of chloroquine, effectiveness of this analog in inhibiting SARS-CoV-2 infection in vitro should be studied further.
Using an interesting software tool called "Chemical Analyzer by ViridisChem, Inc. [3], I was able to get comprehensive and very visual comparison among the 3 metabolites:
Summary of Toxicity Evaluation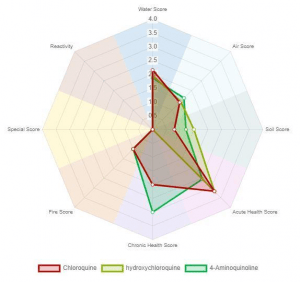 Detailed Toxicity Evaluation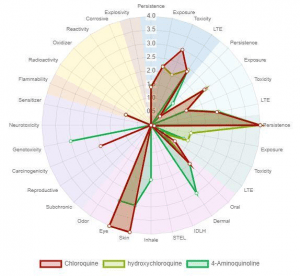 Physical Properties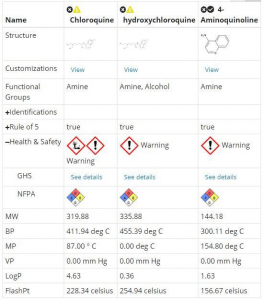 Toxicological Properties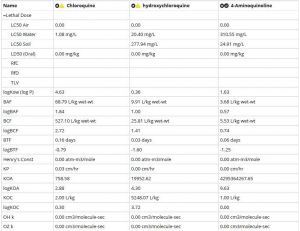 Toxicity Scores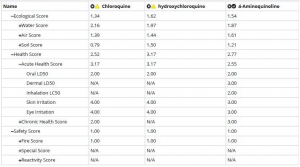 Bibliography:
1) https://www.ncbi.nlm.nih.gov/pmc/articles/PMC3359361/
2) https://www.nature.com/articles/s41421-020-0156-0
3) https://www.viridischem.com/solutions/#solutionsec1
4) https://journals.plos.org/plosone/article?id=10.1371/journal.pone.0140878